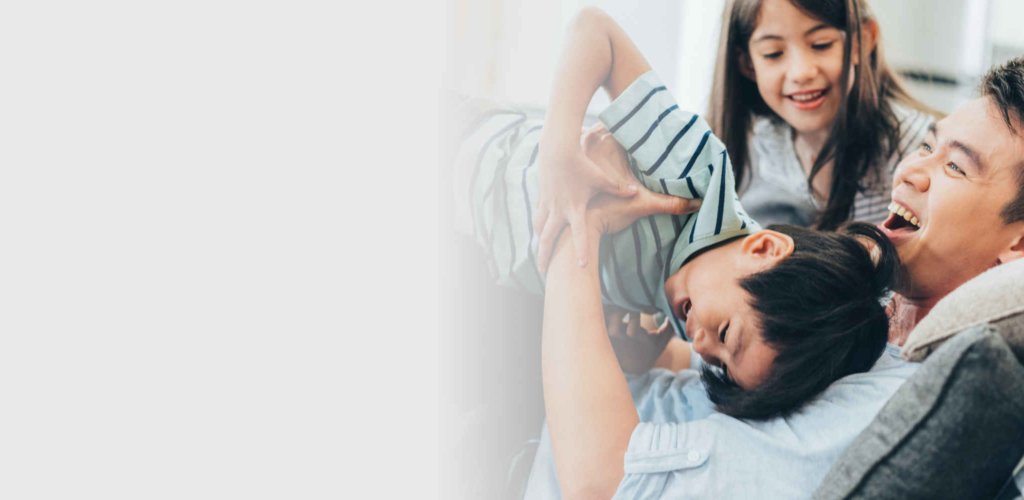 Alarm.com the way it should be Alarm.com is the leader in smart home security. Surety is the smartest way to get it. Low prices. No contracts. Exceptional support. The most efficient path to Alarm.com.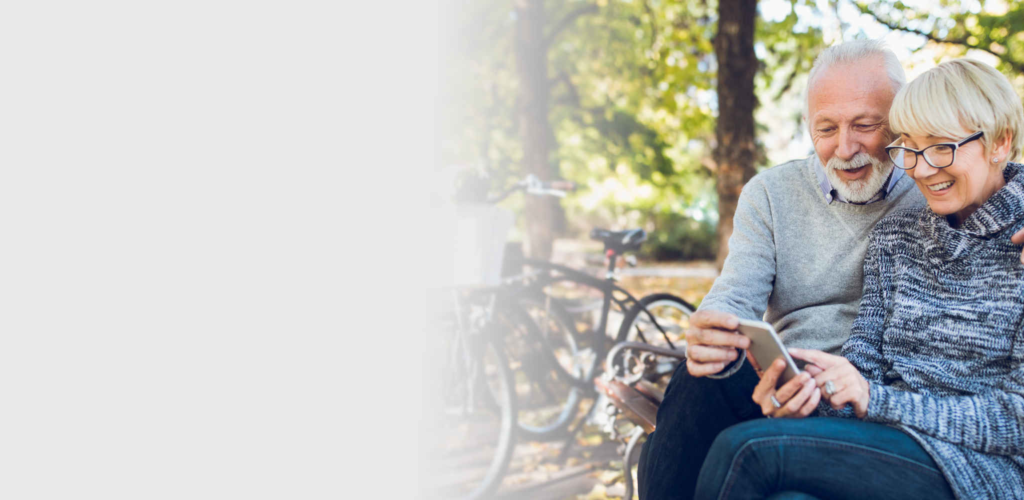 Your home is your domain.
Connecting you with it is ours. From real time notifications to doorbell cameras to 2-way voice communication, Surety is your home's best friend.
How can we help you get connected?
Just looking for cameras? Our Surety Cam plans have you covered.
I already have equipment.
I want a new Surety system.
No one cares more than you do about keeping your home and those in it safe. That's why Surety puts the control in your hands.
Our security and home automation services are powered by Alarm.com, but are installed and completely controlled by you. We provide you what you want, when you want it, and back you with unparalleled online support. We make your privacy our priority and, unlike the search engine and retail giants, we actually mean it. Surety is connected home security the way it should be.
Think of us as your home's best friend. Always there. Always aware. Always ready to help.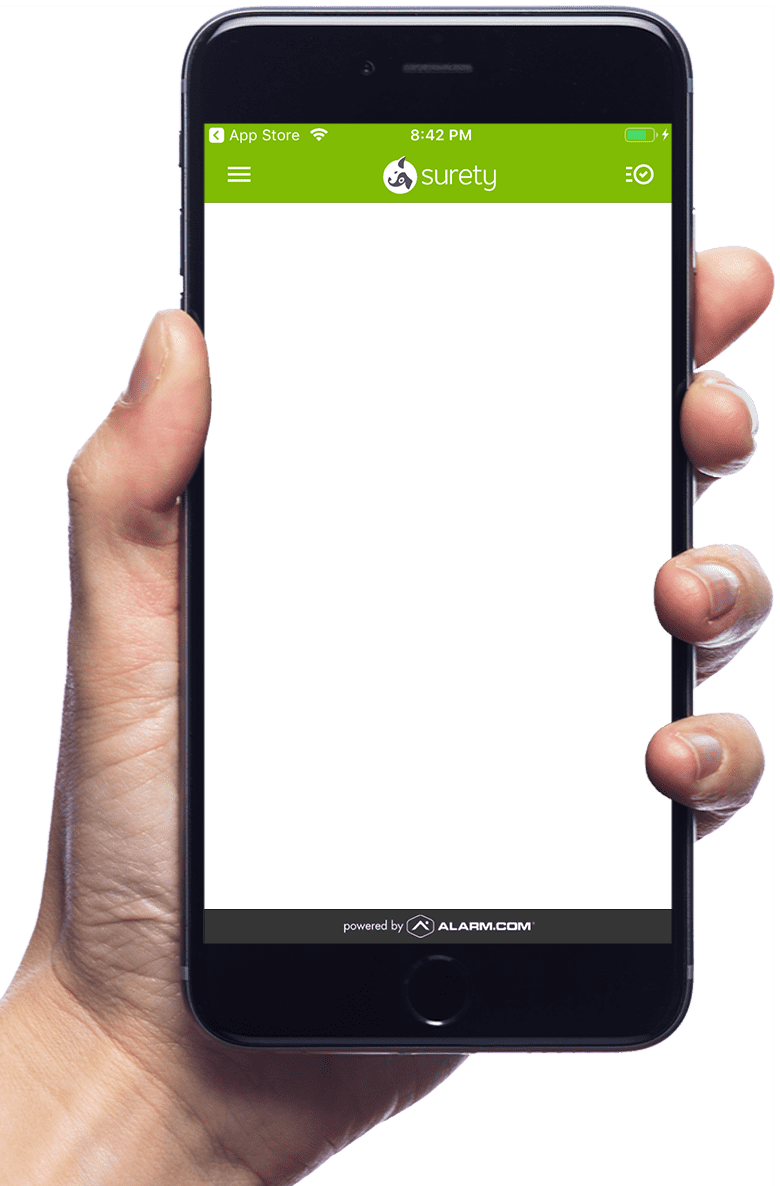 Our roots are in home security but a Surety system can do so much more!
Smart Lights
Light, dim and color any room in the house just by using your smartphone to create the perfect ambience. Save energy by automating and optimizing light usage. Increase security by making your home look occupied when you're away.
Doorbell Camera
Always know who is at the front door. Use live video and a 2-way voice conversation to decide whether to answer, ignore or just remotely unlock the door. See video clips of who came to your door while you were away.
Interactive Security
Smarter interactive home security. It's the most sophisticated security technology and the fastest response times in the industry. It's a real-time pulse on what's happening in your home letting you know that everything is OK.
Fire & Carbon Monoxide Monitoring
Early detection of fire and carbon monoxide emergencies that risk lives. Professional monitoring agents dispatch emergency responders automatically to maximize the safety of you and your loved ones.
Smart Locks
Peace of mind knowing that your doors are locked. Freedom to unlock doors from anywhere in the world. Power to mix locks into your smart home automation. Knowledge of who unlocked the door. It's home access control with style.
Intelligent Cameras
World class cloud enabled video from real security experts. Military grade object detection analytics and a crystal clear high definition picture packed into attractive lifestyle cameras that fit any home decor. Always be connected to home.
Video Alarm Verification
All but eliminate false alarms when you combine our professional monitoring service with your cameras. We verify that the emergency is real before we dispatch so you get a prioritized response and avoid paying false alarm fines.
Photo Captured Motion Detection
Motion detectors are great but what if they also had camera to take snapshots of what was detected? Our camera motion detectors provide a quick way to make sure the alarm is real before police are dispatched. Motion + Photo = Confidence.
Learning Thermostats
Take control of your heating and cooling making life more comfortable while saving energy and being kind to the environment. Machine learning. Smart schedules. Remote temperature sensors. Whole home integration.
Home Automation Scenes
Empower your home with scenes that set all your devices just how you want them with a single touch. Morning time? Dinner time? Movie time? Bed time? Be creative. Let your home do the work so you don't have to.
Garage Doors
Peace of mind knowing that your garage door is closed. Freedom to open/close from anywhere in the world. Power to mix your garage door in your home automation. Knowledge of who opened it. It's home access control with style.
Multi-User Management
Family, friends, service providers, you name it. Your connected home makes life better for everyone. As the master of your domain you get to choose how others can interact with and manage your home and everything in it.
Geo/Location Features
Thanks to your mobile device, your connected home can know where you are when you're away. Geo-fencing can lock the doors when you forgot, adjust the thermostat when you're almost home and disable the cameras when you're home.
Smart Shades
Automated shades add a delightfully refined touch to your whole home system. Use scenes to instantly set your shades to fit the time of day, your mood or your family activities. Lutron or Z-Wave shades become a living part of your home.
Flood Detection & Water Management
Minutes matter when your home starts to flood. Early detection can mean the difference between a minor leak and a large loss of personal property. Water valve control can even stop the flood automatically when you're away.
Energy Management
Controlling your lights, heating and cooling and appliances is step one but monitoring and analyzing your energy consumption takes it to a whole new level. Gain real, actionable energy saving insights and really go green.
Home Audio
Smart home audio makes it easy to listen to what you want when you want but connecting audio into your whole home automation system really makes it sing. Automate Sonos and Legrand audio for a truly zen smart home.
Lawn Sprinkler/Irrigation
Control your irrigation system from anywhere. Verify it's running properly. Pause or delay watering when it's raining or when the yard is being used. Make your Rain Bird and Rachio sprinkler systems part of your smart home.
Home Health Monitoring
Cost-effective independent living with safety, security, and comfort. Help your loved ones confidently live where they choose and always be there for them when they need help. Link together your systems for convenient access anytime.
Home Automation Rules
Rules put the "auto" in home automation by connecting triggers with actions so your home does what you want. Lock the doors when you arm the alarm. Stop the ventilation system when smoke is detected. The possibilities are endless.
Real-Time Notifications
Awareness of what's happening in your home is a great benefit but you can't just sit around and watch. When something notable occurs your system will reach out and tell you so you can respond appropriately.
Insights & Reports
Too much information can be overwhelming but no need to worry. Insights learn about your home and alert you when something notable has occurred. Reports summarize what's important so you can focus on what matters and take action.
In addition to the Surety Alarm.com app, you can control your system with
What you want, when you want it. Surety, a connected home the way it should be.
Easy
Never had a security system?
We make it easy. We've partnered with Qolsys to ensure you get the absolute best Alarm.com experience, and we'll help you determine what kind of monitoring will work best for you. Our easy-to-use equipment is not only attractive and easy to install, it's also commercial grade for longer life and reliability.
Easier
Already have a security system?
If it's Alarm.com compatible, it will only take minutes to get you connected with our service. And we offer our renowned, industry-leading technical support for all Alarm.com systems.
Easiest
Using our service day in and day out.
Whether you're a security system novice or a seasoned pro, everything we do is designed to make monitoring your Surety Home incredibly simple and enjoyable.
Let's Get Started
Our best-in-class software is seamlessly integrated with the most trusted smart home brands