Description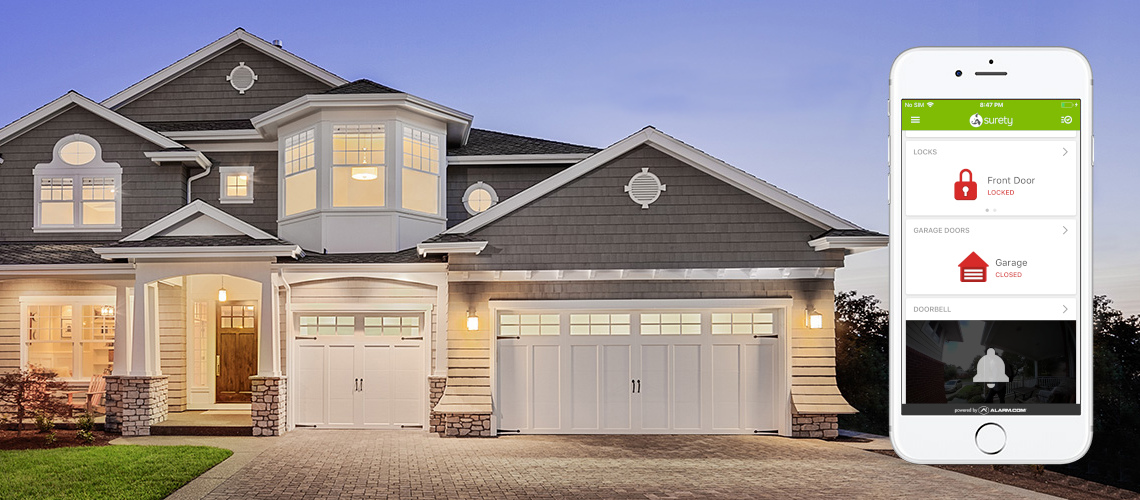 Did I leave my garage open?
Wondering if you left you garage door open is no fun. Close it remotely.
Going for a walk?
No need to lug around a garage door remote control. Just open it with your phone.
One touch and done
Heading out? Just hit the Away scene on the Alarm.com app to close your garage door, lock your doors, turn off your lights and arm your security alarm.
Safety first
Provides both audible and visual warnings prior to remotely-activated door movement, allowing it to meet UL 325-2010 safety requirements.
Unreliable internet?
Connects through cellular so it's more reliable and doesn't depend on WIFI. Add WIFI in addition to cellular for maximum reliability with dual path communication.
---
Don't worry, this device integrates seamlessly
Surety is your connection to the award winning Alarm.com ecosystem, allowing you to use hundreds of best-in-class security and home automation devices from a single app that runs on almost anything. All that and the industry's best customer service are why Surety is your home's best friend.

---
Specs & Guides
Manufacturer

Linear

Part number

GD00Z-8-GC

Power

120VAC, 50/60 Hz

Tilt sensor frequency

345 MHz

Z-Wave Frequency

908.42 MHz

Range

Up to 100 feet to the control panel or to the closest Z-Wave repeater device

Controller dimensions

6.94″ x 1.38″ x 5.0″

Tilt sensor dimensions

1.69″ x 0.88″ x 1.19″

Certifications

FCC, ETL, UL 325
---
Plan Compatibility
Security Alarm & Automation
Automate
Alarm
Home
Cameras Only
View
Cam
Cam Plus
Alarm, Automation & Cameras
Protect
Complete
Not needed for Chamberlain & Liftmaster MyQ garage doors
If you have a Chamberlain or Liftmaster MyQ garage door opener than you don't need this product. You can use your MyQ garage door as is with Surety.
---
Support
How do I factory reset my Linear Z-Wave garage door controller?

On the GD00Z, quickly press the Z-Wave Link button five times in a row.
The GD00Z sounds a short beep, flashes several double red lights, and then sounds a long beep to indicate a successful reset.
Still have questions? We've got answers!
The Surety support forum is the #1 resource for answers to all your questions about setting up and using the garage door controller.
Find Answers