Description
Overview
Enhance your protection
The stream video recorder is your ace in the hole to capture large amounts of continuous video with the world's most intelligent, secure and utterly delightful connected home security and automation platform.
Embrace the cloud but don't depend on it
Storing video in the cloud is vital to safely keep important video clips. But when (not if) your internet is down and uploading video to the cloud fails, the SVR keeps on recording without missing a moment.
Never wonder what happened
Notice something interesting in your security system event history? With a single tap you can see recorded video of what happened.
Store more for less
Why pay big monthly fees to store every second from every camera in the cloud when most of the time nothing is happening? Intelligently store meaningful events in the cloud and let the SVR efficiently keep everything else.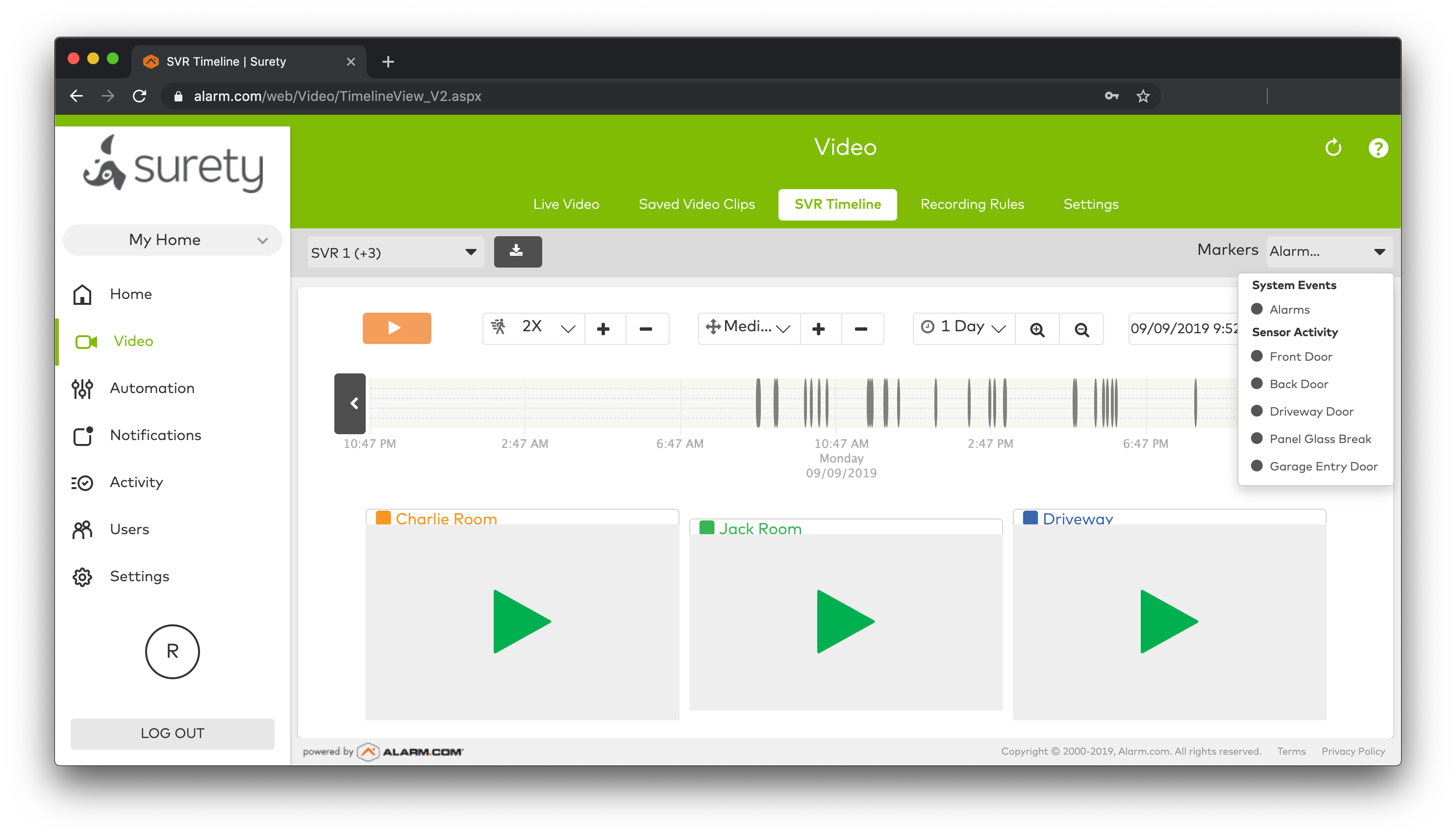 ---
Don't worry, this device integrates seamlessly
Surety is your connection to the award winning Alarm.com ecosystem, allowing you to use hundreds of best-in-class security and home autiomation devices from a single app that runs on almost anything. All that and the industry's best customer service are why Surety is your home's best friend.

---
Specs & Guides
Manufacturer

Alarm.com

Part number

ADC-SVR122

Number of cameras

Up to 8 cameras

Video playback format

MPEG4 H.264

Speed control

1x, 4x, 8x, 16x

Disk size

1 terabyte (1TB)

Drive Type

2.5″ SATA (Western Digital purple series)

Ethernet connection

10Base-T/100BaseTX (RJ45)

HDMI and USB connections

Locally view live and recorded video

Cooling

Fanless (quiet) thermal heat sink

Dimensions

3.5 x 3.5 x 5.8

Operating temperature

32⁰-104⁰F (0⁰-40⁰C)

Operating humidity

20%-95% RH (non-condensing)

Power adaptor

12V DC 1.5A with UL/CE/FCC certification
---
Plan Compatibility
Security Alarm & Automation
Automate
Alarm
Home
Cameras Only
View
Cam
Cam Plus
Alarm, Automation & Cameras
Protect
Complete
---
Support
How do I see what happened in my security alarm event history?

In the Alarm.com app when you swipe left to see your event history, any events shown with a right arroww (>) beside them can be tapped to see video recorded on the SVR at that exact time.
Still have questions? We've got answers!
The Surety support forum is the #1 resource for answers to all your questions about setting up and using the camera.
Find Answers