Description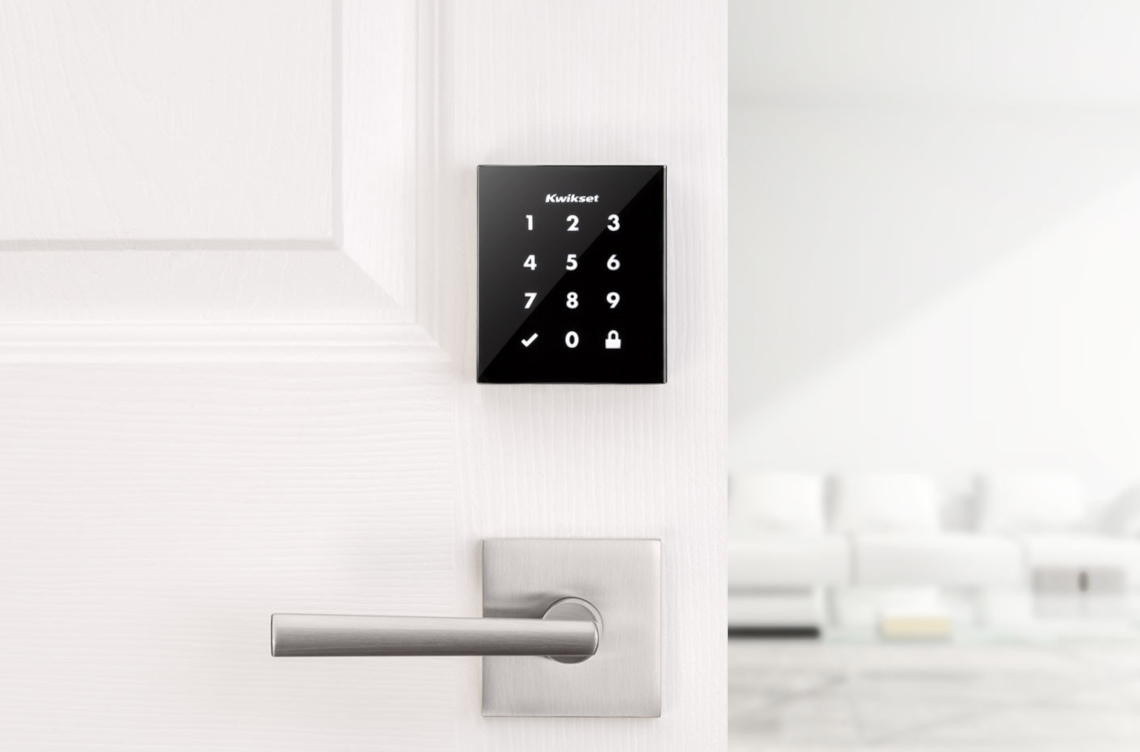 Cutting-edge design
When designing Obsidian, Kwikset created the sleekest smart lock available. Obsidian's style-forward design seamlessly blends with any home's decor and offers key-free convenience with its capacitive touchscreen.
This style-forward lock is the future of door hardware. Named after the volcanic rock, Obsidian is a visually striking touchscreen that eliminates traditional keyways and opts for a low profile, contemporary design to deliver a stylish, modern smart lock that is secure, innovative and convenient.
Unmatched security
Designed with patented SecureScreen technology to prevent unwanted entry, 128-bit Advanced Encryption Standard (AES) communication, and meets BHMA Grade 2 deadbolt operational and security standards.
SecureScreen keeps you safe
SecureScreen™ provides additional security by employing random digits prior to entering your personal code to prevent fingerprint and code detection on the touchscreen surface.
You've got a backup power source
Obsidian features 9V terminals at the bottom of the deadbolt exterior that act as a backup power source in case the batteries run out. Use the 9V battery to quickly power the touchscreen by simply touching the battery prongs to the terminals.
Superior wireless encryption
Obsidian with Home Connect featuring Z-Wave® Plus offers extended wireless range, over-the-air firmware updates, and superior wireless encryption.
---
Don't worry, this device integrates seamlessly
Surety is your connection to the award winning Alarm.com ecosystem, allowing you to use hundreds of best-in-class security and home autiomation devices from a single app that runs on almost anything. All that and the industry's best customer service are why Surety is your home's best friend.

---
Specs & Guides
Manufacturer

Kwikset

Part number

99540-001, 99540-002

Function

Single Cylinder Deadbolt

Door Prep

1 1⁄2″ and 2 1⁄8″ diameter face hole and 1″ diameter latch hole

Backset

Adjustable 2 3/8″ or 2 3/4″

Door Thickness

1 3⁄8″ – 2″

Faceplates

1″ x 2 1⁄4″ round corner standard

Strikes

Round corner

Latch

Round corner adjustable 2 3⁄8″ x 2 3⁄4″

Bolt

1″ throw, steel deadbolt

Door Handing

Reversible

Batteries

6V (4 x AA alkaline batteries required)
---
Plan Compatibility
Security Alarm & Automation
Automate
Alarm
Home
Cameras Only
View
Cam
Cam Plus
Alarm, Automation & Cameras
Protect
Complete
---
Support
Why Isn't My Obsidian Locking?

There are three possibilities: 1) Obsidian will not lock if your batteries are too low so as to prevent accidentally locking you out. 2) Obsidian may not be locking if the bolt hole on the door frame is not deep enough. Make sure the bolt hole on the door frame is at least 1" deep. 3) Obsidian may not be locking due to a misalignment with the door, door frame, and/or strike. For more information on how to address misalignment, please see the installation guide.

What Do The Different Colored Lights On The Status LED Mean?

Amber indicates locked. Green indicates unlocked. Red indicates low battery.
Still have questions? We've got answers!
The Surety support forum is the #1 resource for answers to all your questions about setting up and using the Kwikset Obsidian lock with Surety.
Find Answers