Description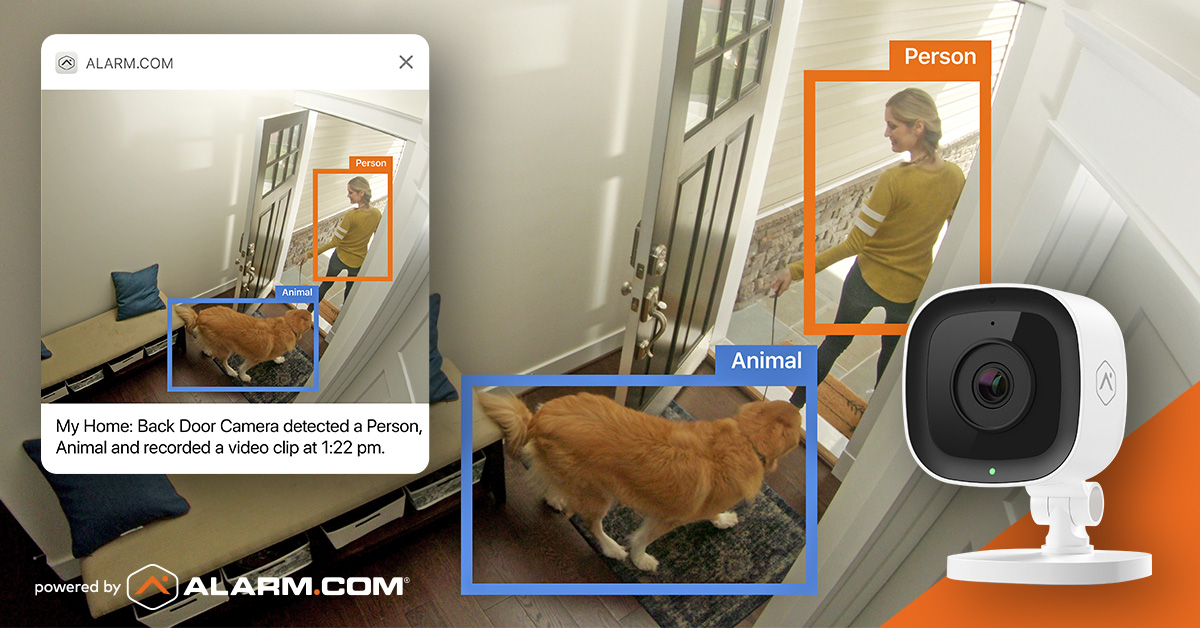 Connect to a stronger platform
The ADC V523 indoor camera is a beautiful little workhorse that serves as your entryway to the world's most intelligent, secure and utterly delightful connected home security platform.
Catch Fido on the couch
With intelligent people, animal and vehicle detection you'll never miss a moment. Be alerted when a pet jumps on the couch and remotely tell them to get down.
Affordable yet premium performance
You shouldn't have to choose between high end performance and affordability. The ADC V523 indoor camera delivers superior people and animal detection with a perfect picture at less than half the cost of comparable AI/IQ cloud cameras.
Never stops learning
It already packs the industry's most advanced artificial intellignce. Thanks to automatic firmware updates it continues to get smarter over time.
---
Don't worry, this device integrates seamlessly
Surety is your connection to the award winning Alarm.com ecosystem, allowing you to use hundreds of best-in-class security and home automation devices from a single app that runs on almost anything. All that and the industry's best customer service are why Surety is your home's best friend.

---
Specs & Guides
Manufacturer

Alarm.com

Part number

ADC-V523X

Maximum resolution

1920×1080

High contrast light

High dynamic range (HDR)

Recording compression

H.264

Image sensor

1/2.7" CMOS, 2.1 MP, 1920×1080

Lens

3.0 mm, F2.0

Angle of view

117°

Low-light sensitivity

0 lux with IR

IR range

Up to 5 meters (~15 feet)

Image adjustments

Flip, brightness, contrast, saturation, sharpness, exposure

Video motion detection

3 windows, adjustable sensitivity and threshold

Wireless connectivity

802.11 b/g/n, 2.4 & 5 GHz

Ethernet connection

10/100Mbps RJ-45

Simultaneous viewers

10

Operating temperature

0°C – 40°C (32°F – 104°F) RH

Operating humidity

Max 95% (non-condensing)

Max power consumption

12 VDC, 1 A

Dimensions (WxH)

2.4″ x 3″ x 3.7"
Product Guides
---
Plan Compatibility
Security Alarm & Automation
Automate
Alarm
Home
Cameras Only
View
Cam
Cam Plus
Alarm, Automation & Cameras
Protect
Complete
---
Support
My router doesn't support WPS

Not a problem! The ADC-V523 also offers an Access Point (AP) mode for setting up your camera. AP mode is the most reliable wireless method for connecting to a wifi network.
After power-up, the camera's LED will begin to flash white. If the LED is not white after two minutes, hold down the Reset button and release when the LED begins to flash white at 6 seconds.
On a Wi-Fi enabled device, connect to the wireless network ADC-V523 (XX:XX:XX) where XX:XX:XX is the last six characters of the ADC-V523's MAC address.
On the same Wi-Fi enabled device, open a web browser and enter http://v523install in the web address field. Follow the on-screen instructions to add the ADC-V523 to the Wi-Fi network. The LED will be solid green when the connection is complete.

How do I get notified when my pet jumps on the couch?

Log into your Alarm.com account via the website. Go to Video -> Recording Rules and create a new Video Object Detection Rule. Choose the camera and type Ground Zone. Choose Indoors. Outline the area on the couch. Select send notifications for clips containing Animals. Choose your mobile device to receive the notification.
Still have questions? We've got answers!
The Surety support forum is the #1 resource for answers to all your questions about setting up and using the camera.
Find Answers